Kauno Energija's innovation: 30-ton cold machines have arrived to Science Island
Kauno Energija's innovation: 30-ton cold machines have arrived to Science Island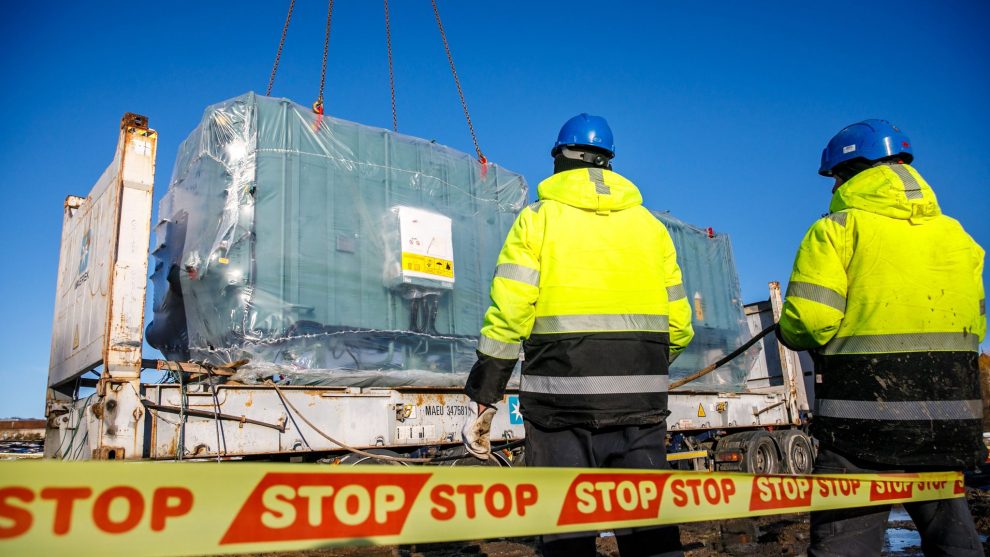 Paskelbta: 2021-12-13 (Monday)
The science museum "Science Island" rising on the Nemunas Island in Kaunas has been reached by innovative devices of impressive dimensions – two cold machines that will provide coolness to the spaces intended for the popularization of science. This is the first project of Kauno Energija entering the cooling supply market of this scale.
For the "Science Island", the area of ​​which is 11.5 thousand sq. meters, the cooling will be produced by absorption heat pumps, also called cold machines. Using this innovative technology, which is still in its infancy in Lithuania, the heat energy from district heating water is converted into coolness during a rather complex technological process.
The journey of two cold machines with a total capacity of 1576 kW to Lithuania took several months. The equipment weighing 30 tons arrived at Klaipeda Seaport, from where it was safely brought to Kaunas by land. The "Science Island", which is scheduled to open in 2022, is already equipped with the coolers needed for the cooling system, and a heating station will be installed.
The "Science Island" will be equipped with probably the most powerful cold machines in Lithuania at the moment. Absorption heat pumps used to produce cooling are much more environmentally friendly compared to currently the most common compressor air-cooled chillers, as district heating will be used, which accounts for more than 90% of heat produced from renewable and local fuels in Kaunas.
"An important factor is that absorption-type machines do not use greenhouse gases. Compared to compressors, this type of machine consumes significantly less electricity (which is largely not "green"), which reduces the cost not only of the electricity consumed, but also of the installed capacity," says Mr. Laimonas Narbutas, Head of the Innovation Department of Kauno Energija.
Kauno Energija specialists recommend the use of absorption heat pumps for cooling in large administrative, public, commercial and industrial facilities where the design cooling demand exceeds 500 kW of installed capacity.
Although indoor air cooling is not a new thing in the world, cooling using district heating is still a fairly new service in Lithuania. According to Kauno Energija specialists, such cooling supply is more environmentally friendly and economical compared to other cooling alternatives currently on the market and is extremely convenient for building owners, as they no longer have to worry about equipment installation and maintenance.
Kauno Energija information